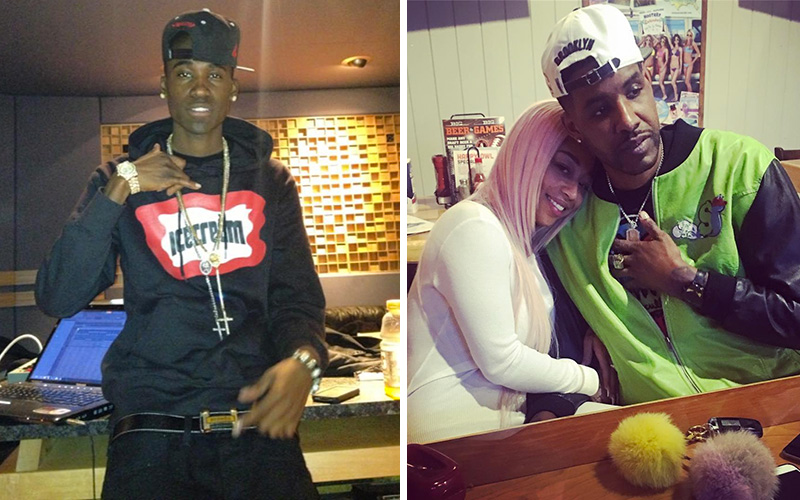 Another Love & Hip Hop Atlanta cast member has a sextape circulating online, and this time, it's Jessica Dime.
According to Fameolous, LHHATL newcomer Jessica D was messing with a Memphis rapper/producer who goes by the name Lody Lucci (aka Lil Lody) at some point.
While they were together, Lucci apparently recorded a video of them smashing, and he's been keeping the video on ice ever since, waiting for the right moment to "expose" the stripper turned reality star.
Recently, Jessica posted photos on Instagram showing off her new boo, former NBA player Shawne Williams (who Fameolous says left his wife to be with Dime).
This apparently pissed Lody Lucci off to the point where he decided to be messy and leak the video of him and Dime bumping uglies to Fameolous.
I got homie girl all on film ???

— LodyLucci (@LodyLucci) November 26, 2016
Oooppsss that's yo girl my bad ??

— LodyLucci (@LodyLucci) November 27, 2016
Don't start non you can't finish especially with a nigga who got real power ??

— LodyLucci (@LodyLucci) November 27, 2016
Yeah ya girl know the kid she ain't tell ya I wasn't average,I'm the one that was fucking on her when u called I'm a real savage

— LodyLucci (@LodyLucci) November 27, 2016
Savage Season I been told'em that ?

— LodyLucci (@LodyLucci) November 28, 2016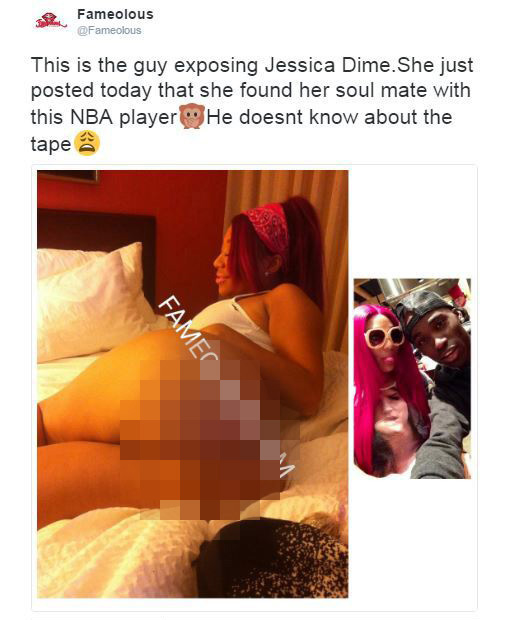 And now, Jessica Dime is officially part of the LHHATL sextape crew, joining the likes of Tia Becca (Tiarra), Mimi Faust and Dime's arch nemesis Joseline Hernandez.
We can't post the video footage of Dime's sextape here, but you can check it out for yourself by clicking on the screenshots below: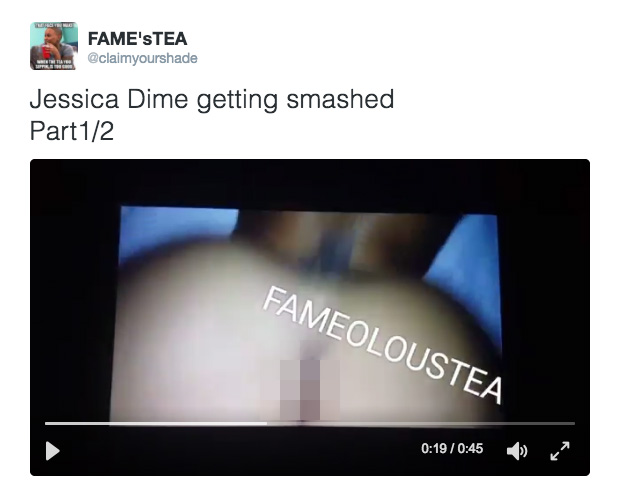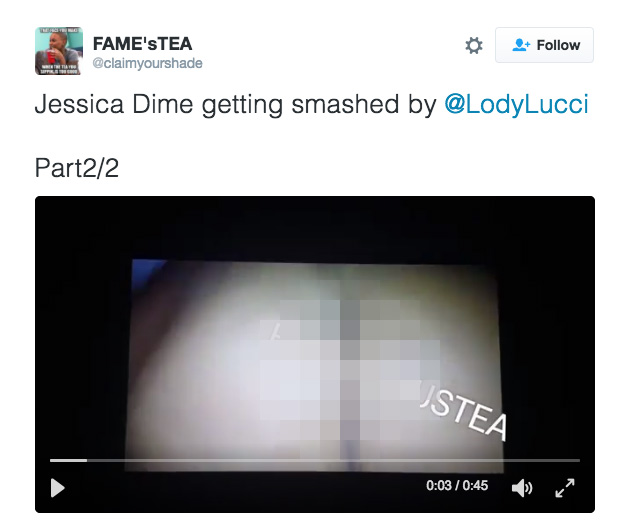 Though you can't see Jessica Dime's face in the flick (because it's nothing but backshots), the clips posted on Twitter show this tattoo Dime has on her lower back:
Jessica Dime tattoo that matches the sex tape just in case someone is wondering…. pic.twitter.com/d317660h4g

— FAME'sTEA (@claimyourshade) November 28, 2016
Well, damn… whoomp, there it is!
Memphis Rapper Lody Lucci Leaks Jessica Dime Sextape After She Shows Off Her New Boo Shawne Williams is a post from: Gossip On This – Pop Culture, News, Videos & Humor