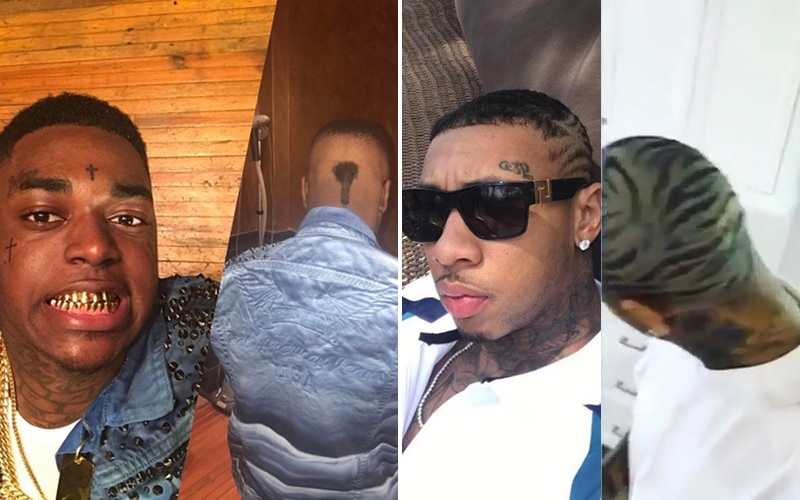 It's time for another internet debate. This time, it's not about what color is this or what is that. The latest internet debate is actually "Which rapper has the worst haircut?" Tyga and Kodak Black both got fresh haircuts recently that have baffled social media.
Kodak chopped off all of most of his signature "Kodak knots." However, he strangely decided to leave just one of his knots in the back. The front of the cut looks like a regular fade that many compared it to the "Boosie fade." However, the Florida rapper quickly shot that down on Instagram.
"This Ain't A Boosie Fade Fuck Ni**a This A #KodakFade #Trendsetter I Keep Something New Going On … I Cut The #KodakKnots"
He also showed off his new 'do to his fans during a recent performance.

Just days prior to Kodak's lone knot making a statement, Tyga debuted some mess. The back of the rapper's head looks like he was attacked by a wild animal. But according to him, the new the cut is supposed to resemble an animal; he has referred to the style as "tiger stripes."
Both horrible haircuts caught Twitter's attention and they had nothing nice to say, just jokes.
Tyga & Kodak hair like their music now

— Barbudo (@GloMichael) January 29, 2017
"Kodak black cut his hair"

Me: pic.twitter.com/Bnqxq1aJ2c

— TheDaddySnatcher? (@_Dmargiela) January 29, 2017
Kodak black new hair cut looks like a piece of shit is stuck in the back of his head

— LongLiveKim (@steph_yvettee) January 29, 2017
tyga got hair plugs just to fuck his shit up like that smh

— HONEY BERRY PLAYBOY (@splash_christ) January 29, 2017
@skrongmeat_ @almighty_aman @KodakBlack1k it looks like his head was trying to take a shit and gave up

— ? (@agss122) January 29, 2017
Kodak & Tyga take a L for their hair idc.

— ??? (@niyawiyaaaa) January 29, 2017
Kodak Black 2 days ago vs. Kodak Black now. #KodakFade with a JaVale McGee rat tail on the back of his head pic.twitter.com/9ngL5vlIN5

— Lee Harvey (@MusikFan4Life) January 29, 2017
the worst part about tyga's hair cut is the fact that there's a barber out there that agreed to do that wack shit

— Lil Morgg (@lilmorgg) January 29, 2017
I guess I can give Kodak and Tyga kudos for being unique and taking fashion risks… actually I can't. I don't think there is a right or wrong answer to this Twitter debate. Both cuts are ridiculous and both rappers should wear hats for a few weeks… or find a talented barber willing to fix that mess.
Twitter Has Nothing But Jokes After Kodak Black & Tyga Debut Interesting New Haircuts is a post from: Gossip On This – Pop Culture, News, Videos & Humor