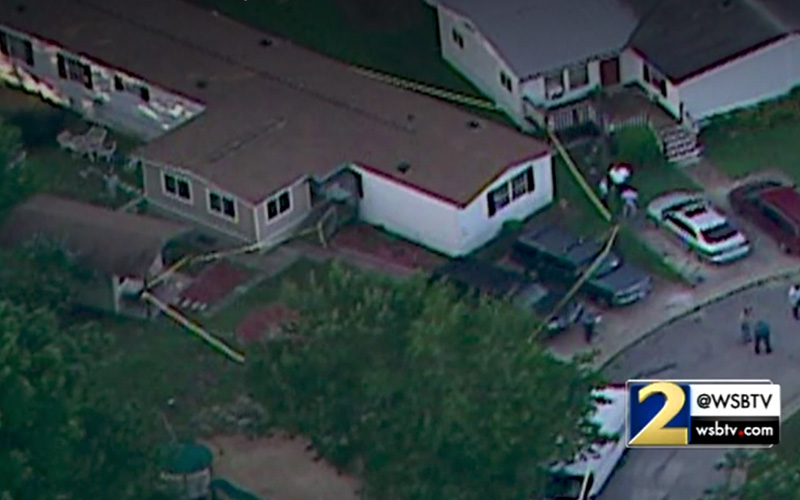 A man and four children were found stabbed to death in a home near Atlanta, Georgia Thursday morning (Jul. 6).
According to Atlanta's WSB-TV, when Gwinnett County police arrived at the home on Emory Lane in Loganville, Georgia they discovered five dead bodies and a sixth victim — a child — who had sustained serious injuries and was rushed to the hospital.
The mother of the children and the man's wife — who is believed to be the murder suspect — has been detained for questioning, police said, adding that "specifics on the ages of the children or a motive for this horrendous crime is still unknown."
Neighbors told a WSB-TV reporter that some of the child victims were "babies," with the youngest being a toddler and the oldest around 7 years old. The family had reportedly moved from Illinois about a month ago. The mom may have been in the house with her dead family for as long as 24 hours before police were called, neighbors said.
Neighbors: kids are "babies" youngest "toddler oldest about 7yoa" said they moved here from ILL about a month ago. @wsbtv pic.twitter.com/doH7QqLuFL

— Liz Artz (@LizArtzWSB) July 6, 2017
A spokesperson for Gwinnett Police said they believe they have everyone involved in the crime. "I don't want anybody in this community to think that we've got a mad person running around trying to stab somebody," Michele Pihera said.
According to one neighbor, the woman was depressed about her father recently dying, and they prayed about it in church this past Sunday, but there were no indications that she would kill her children.
Neighbor: suspect mom was depressed about father dying.They prayed about it in church last Sun., but no indication she wld kill her children pic.twitter.com/FGr2WwqU8j

— Liz Artz (@LizArtzWSB) July 6, 2017
On the scene in Gwinnett Co police confirm mother of 4 dead children & 1 injured is in custody @wsbtv pic.twitter.com/7k1uyUp2e3

— Liz Artz (@LizArtzWSB) July 6, 2017
Homicide update: 1 adult male & 4 young children are deceased, 1 child transported to hospital with serious injuries. Mom/wife detained. pic.twitter.com/rlVJRJavCQ

— Gwinnett Police Dept (@GwinnettPd) July 6, 2017
#BREAKINGNEWS @GwinnettPd investigate a scene in a home where a male & "several" children have been found dead on Emory Lane Loganville. pic.twitter.com/Atoh1WnJuL

— Mark McKay (@mckayWSB) July 6, 2017
This is a developing story and updates will be provided as they come in…
Man & 4 Children Found Stabbed to Death Near Atlanta, Mom/Wife Detained is a post from: Gossip On This – Pop Culture, News, Videos & Humor