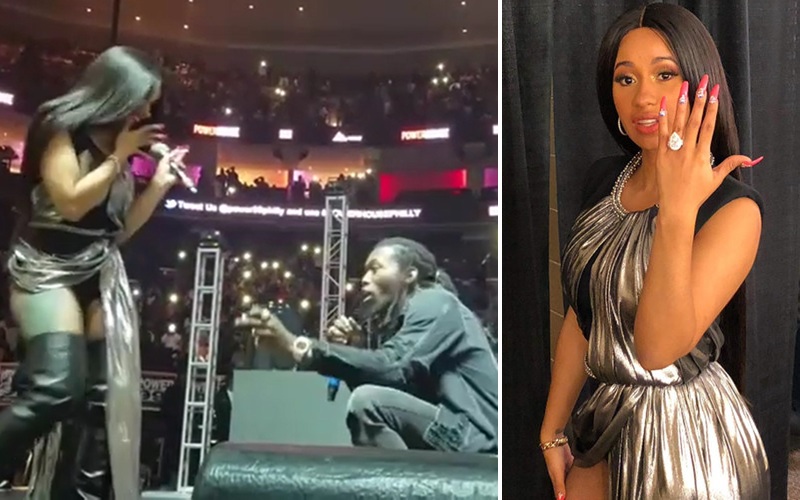 Cardi B is most definitely having the best year of her life. Not only is she currently the hottest rapper in the game right now, but boyfriend Offset just sprinkled 8 carats worth of diamonds on her already decadent cake.
Cardi B and Offset are officially engaged!
Offset proposed to Cardi Friday night (Oct. 27) at the Power 99 Powerhouse concert in Philadelphia at the Wells Fargo Center in front of thousands of screaming fans. The "Bodak Yellow" emcee could barely contain her excitement as Offset got on one knee. And she definitely was surprised!
Offset went all out for his queen too (as he should)! The engagement ring is a large 8-karat pear-shaped diamond. "She said yes," he wrote on social media as he showed off the ring.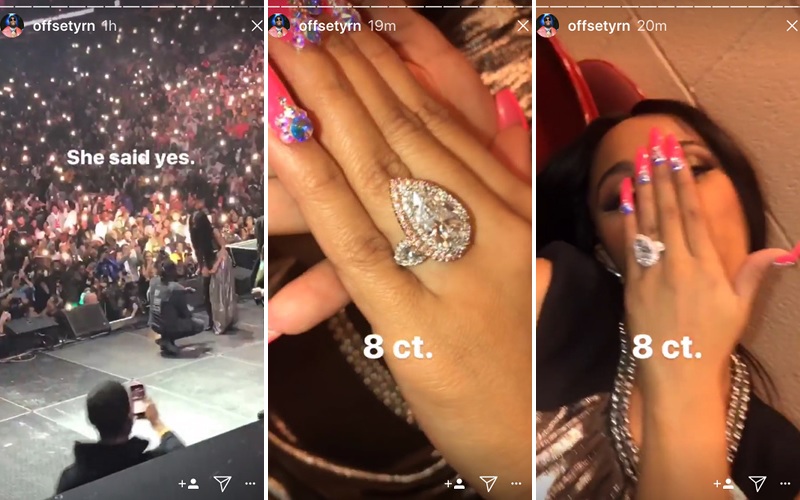 Cardi also shared her joy on Instagram. She wrote in one post:
"Jesus Christ I'm so emotional, @offsetyrn I loveee you so much .Thank you for seeing the potential in me since you met me .For giving me advice molding me and loving me .Your such a amazing man to me your family ,friends ,kids and you are extremely talented.I can't wait to spend FOREVAAAA with you. Lets make a lot shmoney and love together."
In another post, she shared a close-up of her ring and hoped it wasn't all dream. "Thank you God for all these blessings," she wrote. "Thank you babe @offsetyrn God really sent you to me."
It was only a week ago that Twitter freaked out when Cardi insinuated she had dumped Offset, and Twitter was freaking out for a much happier reason once news of the couple's engagement went viral.
Cardi B went from being a stripper, to being on Love & Hip Hop, having a number one record, to now being engaged what a year she's having ?? pic.twitter.com/lqQ9YZAAeY

— ZEF (@beatsbyzef) October 28, 2017
My favorite thing about Offset and Cardi B.'s romance is that it destroys the notion that women need to act a certain way to get a spouse.

— Queen K? (@beautybeatkay) October 28, 2017
May my 2018 be like cardi B 2017?

— october 31? (@queen_tierra17) October 28, 2017
Cardi B in less than a week lol .. pic.twitter.com/7dyp3bUSPG

— luisa ? (@itsluisagibson) October 28, 2017
Offset and Cardi B just got engaged. On God, if they don't have a tv special for the wedding and call it "Never Let Migo", Ima be pissed

— Ella Banzz ? (@EllaBandzzzz) October 28, 2017
Cardi B is living proof that a woman can stay true to herself, in her words "pop off and suck dick all day long" and still get wifed.

— piel de miel ? (@paradiamonds) October 28, 2017
Woke up this morning and see that Cardi B and Offset are engaged! ? pic.twitter.com/m3Dz9ldTXq

— finny smalls. (@IntlHatersUnion) October 28, 2017
Cardi B unstoppable. Her life literally just hit everyone with a skip you reverse back to me draw 2 draw 4 color red UNO UNO OUT BITCH.

— Kennedy St. James (@Assholery_) October 28, 2017
Cardi B is having such a blessed year all her dreams coming true and she deserves it congratulations cardi and offset

— LISA MONAE (@prettygurllisa1) October 28, 2017
BET and VH1 trying to get to Offset and Cardi B for a wedding special before the other one does pic.twitter.com/n5fpiGcEj4

— Micia Girl (@_miciagirl) October 28, 2017
Cardi and Offset began dating earlier this year and actually had to shut down engagement rumors just a few months ago. Well, now it's no longer rumors and speculation; it's the real deal. We wish the happy couple well.
Offset Proposes to Cardi B On Stage During "Powerhouse" Concert, Twitter Reacts to the Happy News is a post from: Gossip On This – Pop Culture, News, Videos & Humor