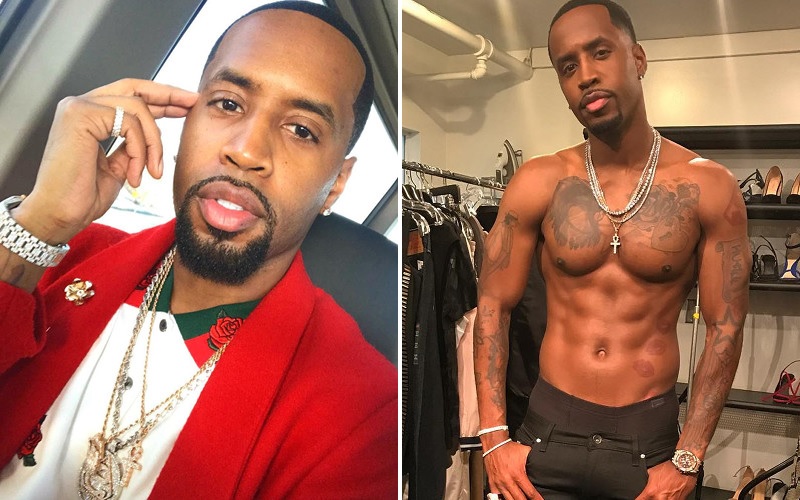 It's been a few days since Safaree unexpectedly found himself trending, but the internet is still drooling over his leaked nudes. Though this is probably more exposure than the rapper/reality star bargained for, the newfound interest may lead to other opportunities, including porn.
Most of Twitter was extremely impressed with what Safaree is working with and it seems the Love & Hip Hop star has caught the attention of porn studios. A source tells Hollywood Life, Safaree's phone has been ringing non-stop with business offers and he's actually open to letting it all hang out even more.
"He thinks everyone will forget about the pics soon, but if they open a few doors for him, then he is cool with that too. He has never considered doing porn until now. While his heart is in hip-hop, Safaree considers himself a businessman first and if the money is right, he is open to any opportunities that come his way."
Safaree—whose dick pic & video sparked the #SafareeChallenge—wouldn't be the first Love & Hip Hop star to foray into the adult industry. We all remember LHHATL's Mimi Faust swinging on shower rods with her then-boyfriend Nikko London.
But don't get your hopes up for a "Wild Safaree" flick just yet. The insider says several job offers are coming through for Safaree and he's even getting marriage proposals.
"Safaree is shocked that his phone has been blowing up since the penis pics leaked. He has been getting marriage proposals, job offers and he even has a ton of new online haters and trolls trying to diss him since the pics leaked."
Safaree has returned to social media, but has not addressed the leaked pics. And right now, his focus remains on music (not porn). He will appear on The Breakfast Club Wednesday (Feb. 28) to drop his new single "Hunnid."
Set alarm clocks for tomorrow am… I'll be live premiering #hunnid on @breakfastclubam pic.twitter.com/jm1EReOTZ9

— @IAMSAFAREE (@IAMSAFAREE) February 28, 2018
Safaree Reportedly Considering Porn Offers After His Leaked Nudes Broke the Internet is a post from: Gossip On This – Pop Culture, News, Videos & Humor
Read More