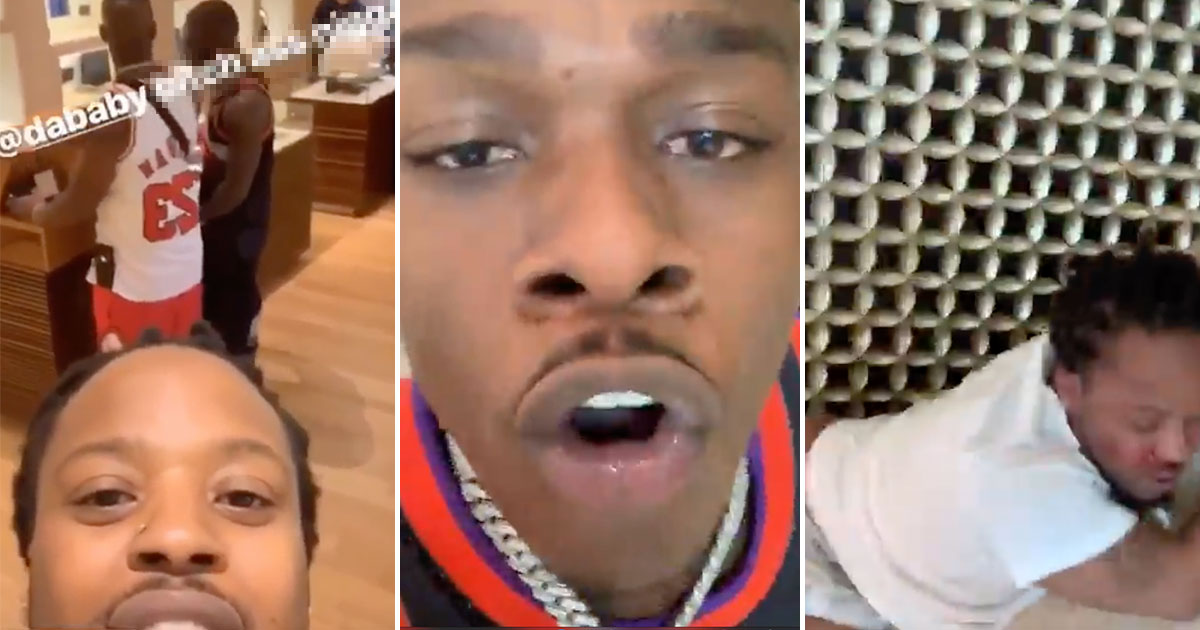 A Charlotte rapper who decided to test DaBaby's gangsta ended up with a bloody nose and on the ground with his pants below his waist … and the whole thing was captured on video.
Based on the footage, DaBaby (real name: Jonathan Kirk) appeared to be minding his business while apparently shopping in a mall store when another man, later identified as Charlotte rapper Cam Coldheart, accosted him.
"You a bitch. Y'all, look at the n***a DaBaby," Coldheart can be heard saying. "He walkin up on me like he about to do some sh*t."
The footage then skips to DaBaby confronting the man before a brief scuffle ensues.
The next part of the video shows the man on the ground outside the store, bleeding profusely from his nose and with his pants down, exposing his underwear.
"Cam Coldheart! I'm the truth n***a! Knocked him out! Me! Dolo!" DaBaby shouts at the end of the video. "I'm the truth! Quit playing with me boy! Pick ya pants up n***a, the f**k is you talking about n***a? The f**k wrong with him?"
Watch the videos (which DaBaby re-posted on his own Instagram) below:
For his part, Cam Coldheart is ranting and raving on social media about how he was jumped by DaBaby's security, contradicting the "Suge" rapper's claims that it was a one-on-one fight.
He wrote on Instagram:
I asked security how many ppl jumped on me in Loui V??? HE AINT GOT TO LIE. JUST HIM??????? DOLO???? THIS THE PROOF YOU ALL CAP @dababy Police bag there asking for statements I just want my mf belt No rats YOU TELLIN YO FANS JUST YOU?? DOLO?? YOU PEE WEE A** N***A. I DEFINITELY CONNECTED ON YO BITCH A** FIRST THROW AND YOUR SECURITY JUMPED IN. PERIOD.

But it's bool I wish y'all boys much success I ain't even mad. I'm goin ouT tonight!!! Like the f**kin I said, you nice a** n***as left me pretty … but y'all thug. N***a wouldn't be able to go out caught solo wit me and mine for weeks.

Y'all hit like hoes!! I was just scratched up and tired, I sag ANYWAY YOU BEEN CAP YOU STIIL CAP. That's gone show itself sooner or later yo bitch a**. No police statements made way to street da dat told her I ain't wanna talk. Check on dat
And here's what he posted on Twitter:
So these niggas surround me on both sides in Loui V while im at da counter buyin a belt. Little Jon Jon @DaBabyDaBaby and his hired security licensed to protect him and kill wanna jump me so I gotta fight his big ass… https://t.co/20wWMdCDNI

— Cam Coldheart (@CamCOLDHEART) May 26, 2019
Walkin up wit cameras out and shit tryin to do anything for some clout you lil bitch ass boy @DaBabyDaBaby you everywhere wit licenses to kill SECURITY don't try to put a chain on em and shit like he just a homie.… https://t.co/f2dnzJOgg8

— Cam Coldheart (@CamCOLDHEART) May 26, 2019
Quit CAPPIN you bitch ass boy you and yo security nigga JUMPED ME for like 5 minutes! Ima mother fuckin SLIVER BACK. Dat blood from scratch under my nose y'all bitch ass niggas SCRATCHIN. DO I LOOK HURT???? IM STIL… https://t.co/korsoq9zPX

— Cam Coldheart (@CamCOLDHEART) May 26, 2019
I asked security how many ppl jumped on me in Loui V??? HE AINT GOT TO LIE. JUST HIM??????? THIS THE PROOF YOU ALL CAP??? YOU TELLIN YO FANS JUST YOU?? YOU PEE WEE ASS NIGGA. I CONNECTED ON YO BITCH ASS AND YOUR… https://t.co/sKK5AO1xOq

— Cam Coldheart (@CamCOLDHEART) May 26, 2019
Surround me jump me. All dem hits.. and Im good. These niggas scratching? dats cool. Hit like hoes Much love and succes to y'all playboy https://t.co/DhJjtmqHzt

— Cam Coldheart (@CamCOLDHEART) May 26, 2019
WATCH: DaBaby Knocked a Clout-Chasing Charlotte Rapper Out of His Pants & Posted it on Instagram is a post from: Gossip On This – Pop Culture, News & Videos
Read More