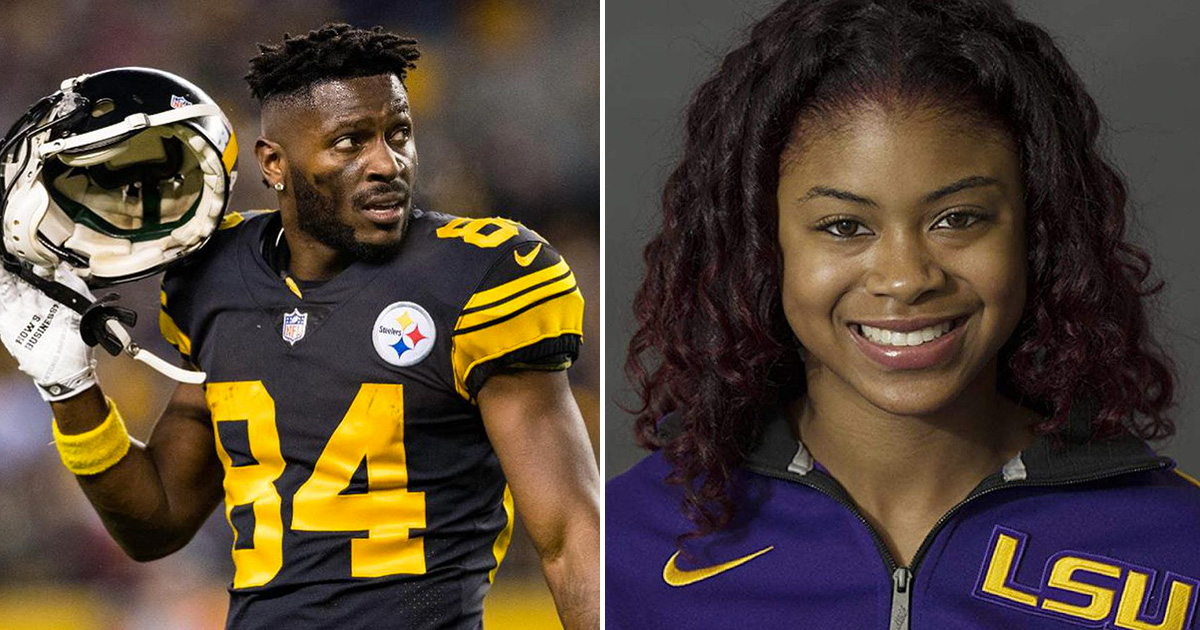 Britney Taylor was named as the woman in the lawsuit accusing Antonio Brown of rape.
Taylor, 28, who used to work directly with New England Patriots wide receiver Antonio Brown as his personal trainer, recently filed a lawsuit naming three separate instances in which she says Brown sexually assaulted her, even at one point forcing sexual intercourse.
Brown, 31, denies the allegations, saying in a statement that he will "pursue all legal remedies to not only clear his name, but to also protect other professional athletes against false accusations."
Here's everything you need to know about Britney Taylor and her lawsuit against Antonio Brown.
Britney Taylor says Antonio Brown sexually assaulted her on three separate occasions between 2017 and 2018.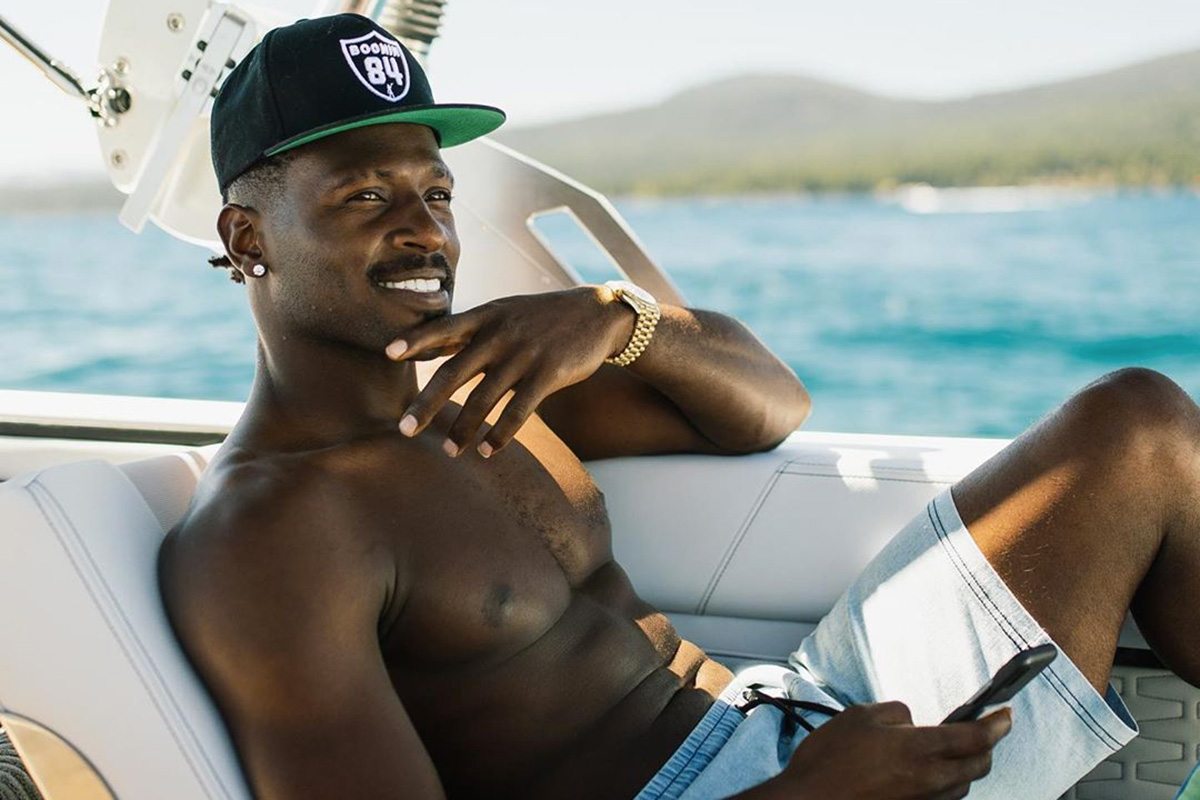 Britney Taylor, who was hired as a personal trainer for Antonio Brown, states in her lawsuit that Antonio Brown exposed himself to her during two separate training sessions in 2017 before raping her during a third instance of sexual assault in 2018.
The first time it happened, Taylor claims the NFL star "exposed himself" to her and "kissed her without her consent."
A month later, Taylor claims while she was alone with Brown at his house, the All-Pro athlete masturbated and ejaculated on her back while she was watching a video on her iPad.
She said she'd realized what happened after she "felt a wet spot soak through her clothing."
And then in May 2018, Taylor said Brown forced her down onto a bed, "pushed her face into the mattress, and forcibly raped her."
While she repeatedly shouted "'no' and 'stop,' Brown refused and penetrated her," the lawsuit states, adding that Taylor tried to escape Brown's hold, but he "was too strong and physically overpowered her."
The lawsuit stated that Taylor has been "severely traumatized" by the incidents and she "has suffered near-daily panic attacks and suicidal ideations."
Taylor says Brown sent her "astonishingly profane and angry text messages" after the second incident, in which he masturbated on her back while she watched a "religious video" on her iPad.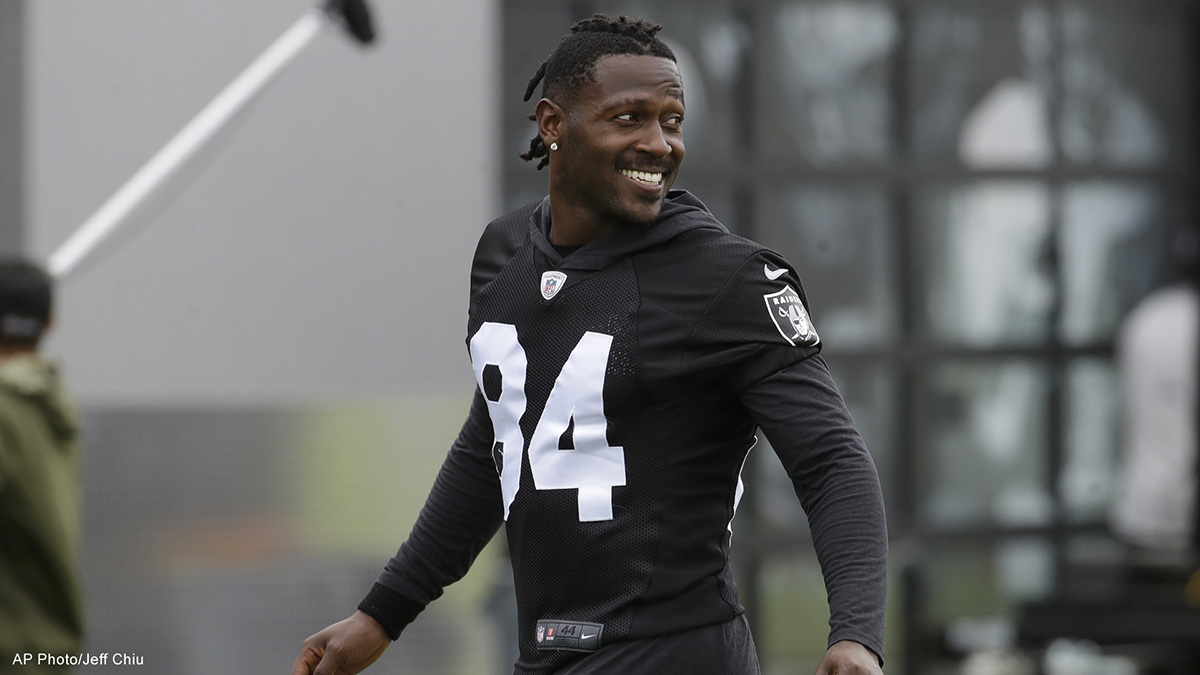 After the second instance of sexual assault, when Brown allegedly ejaculated on Taylor's back without her knowledge, Taylor said Brown sent her a number of "astonishingly profane and angry text messages" bragging about the incident to her.
In one message, he stated that he "[jacked] his d**k on [her] back" and was going to show a mutual college friend a video of the incident and laugh with them about it.
According to the lawsuit:
In late June 2017 … during another training visit, Brown and Ms. Taylor were watching a church service on Ms. Taylor's iPad in Brown's home in Miami, Florida. As they had during their college Christian fellowship days, they often read scriptures, prayed or watched services together during training visits.

On this occasion, Brown was behind Ms. Taylor as they watched the service on her tablet. Unbeknownst to Ms. Taylor, while she was focused on the religious video, Brown began masturbating behind her. Before she knew it or understood what was happening, Brown ejaculated on her.

Specifically, Ms. Taylor felt a wet spot on her back and then suddenly realized what had happened. Thoroughly disgusted, Ms. Taylor exclaimed, "Ewww!" Brown, unfazed by her reaction, jokingly responded, "oh 'B'…you know, I'm sorry" and then left the room.

Ms. Taylor was dismayed, confused and embarrassed. She called her mother, who advised her to immediately leave.

She also confided in Brown's chef, whom she had befriended, about what happened and stated that she would not be returning to work for Brown. Shortly thereafter, she received a text message from Brown telling her she was fired.
In one screenshot showing a series of text messages from June 29th, 2018, Brown wrote to Taylor:
"I jack my d**k on your back! Slept with u n bed! F**k your knowledge b*tch I been all pro before I even knew u! U hit me up online b*tch crying I didn't hit u up! U never left my house since u had hotel u feel [sic] asleep on my couch!

F**k out of here my baby mama trick your dum a**! Blast me your a failure telling everybody u own a gym! What u gone blast don't f**king write my phone lien [sic] b*tch thought it was easy to get a come up! Using God alias fake a** hoe u n ya momma thought y'all hoes had a come up f**k out of here don't write my team."
He continued in a separate message:
"Thanks for giving us control of your life for 3 weeks! Next time u n your momma plotting on a come up make sure u all hoes pick the right man dum a** hoes! Maybe somebody u Already f**king … Your momma controlling your life like she gone help the come up! You failed at gymnast u a nobody!

Me n [redacted] a laugh about this sh*t me busing on your back [laugh emojis] I'll let him know when I'm bored! U a disgrace to lil girls u a failed gymnast living in the past at your momma house with your momma! Lucky I showed u around your welcome! My baby mama know a weak b*tch when she spot one u played yourself [laughing emojis]"
The lawsuit adds: "He further demeaned her in repeated text messages, calling her a 'weak bitch' and 'dum [sic] ass hoe [sic].'"
Taylor says in her lawsuit she was "shocked and deeply embarrassed by this assault and his degrading messages" and immediately "cut off her working relationship with Brown."
However, several months later, after Brown apologized and begged for her forgiveness in a text message, Taylor says she was "swayed by his assurance that he would cease any sexual advances" and agreed to start back working with Brown as his trainer.
Via the lawsuit:
In February 2018, Brown sent Ms. Taylor a message thanking her for help in the off-season and stating that he would love to continue working with her under the "right circumstance[s]." He also mentioned that unlike many of the other people that surrounded him, she had "a great heart and … cared" about him.

Ms. Taylor did not respond to his message.

Then, in early March 2018, Brown sent Ms. Taylor another message asking her if she hated him now. He went on to say: "I apologize first off with so much going on around me and my actions." He asked for her to train him again, assuring her that things would be different.

Ms. Taylor agreed, but on the condition, which is reflected in writing, that Brown stop flirting with her anymore. She also required that he provide her hotel accommodations for each trip.
Two months later, on May 20th, 2018, after a night out in Miami, Taylor says Brown sexually assaulted her for a third time by pinning her onto a bed and forcing her face into a mattress before "forcibly" raping her while she screamed for him to stop.
Antonio Brown denied the allegations in a statement through his attorney.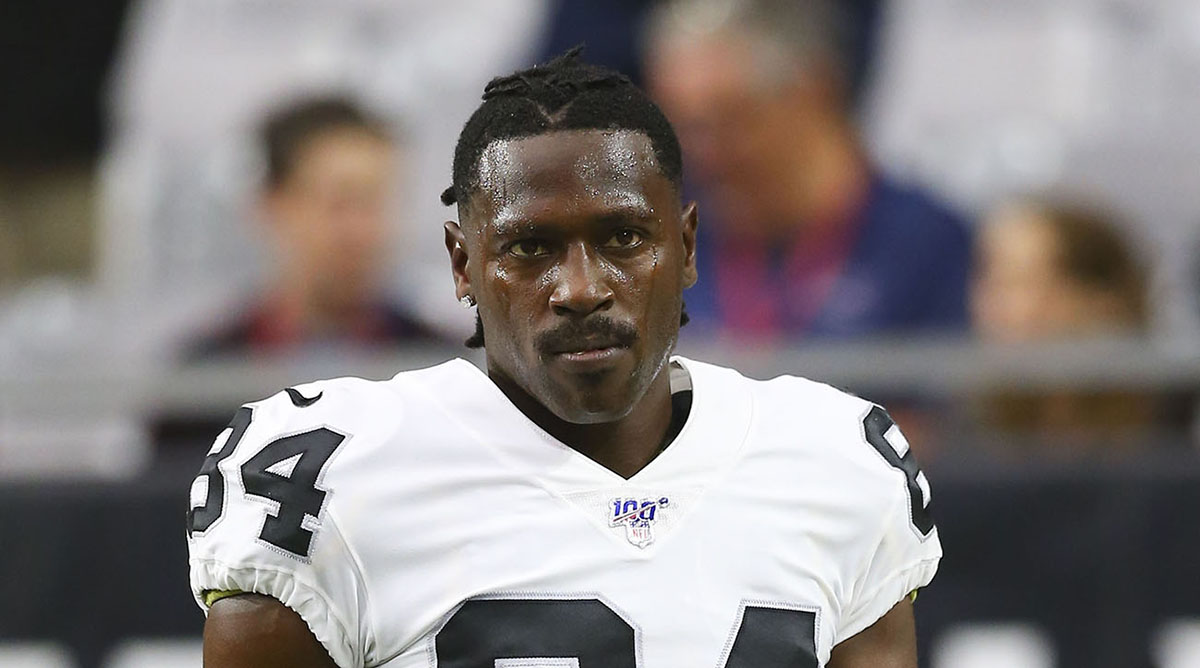 Antonio Brown's attorney, Darren Heitner, issued a statement on Brown's behalf vehemently denying the allegations and claiming that the only reason Taylor is suing Brown is because he refused to invest $1.6 million into a "business project" of hers back in 2017.
Brown, however, did admit to having a "consensual personal relationship" with his accuser and he said she did visit his house on multiple occasions, including one particular late-night visit just 10 days after the alleged May 2018 rape incident.
Brown also claims the woman asked him for tickets to a Steelers football game in Winter 2018, and has posted numerous pics with him on her social media in an effort to benet from her association with him.
Brown ended his statement saying he will "pursue all legal remedies to not only clear his name, but to also protect other professional athletes against false accusations."
Read the full statement below:
Antonio Brown learned today that he has been named in a lawsuit filed in federal court in the Southern District of Florida.

Mr. Brown denies each and every allegation in the lawsuit. He will pursue all legal remedies to not only clear his name, but to also protect other professional athletes against false accusations.

Mr. Brown was approached by his accuser in 2017, shortly after Mr. Brown signed a contract making him the highest-paid wide receiver in the NFL. At that time, Mr. Brown was asked to invest $1.6 million dollars in the accuser's business project.

Mr. Brown was not informed by his accuser that she had just been levied with a $30,000 IRS tax lien or that $300,000 of the $1.6 million so called "investment" was to be used to purchase property already owned by the accuser and her mother.

When Mr. Brown refused to make the $1.6 million "investment," the accuser supposedly cut off communications with Mr. Brown. However, in 2018, the accuser resurfaced and offered to travel to Pennsylvania and South Florida to train Mr. Brown for the upcoming season.

Thereafter, the accuser engaged Mr. Brown in a consensual personal relationship. Any sexual interaction with Mr. Brown was entirely consensual.

The accuser not only traveled to Mr. Brown's residences on multiple occasions, she traveled from Tennessee to Florida and returned at 2 a.m. to Mr. Brown's residence ten days after the alleged assault.

The accuser continued communications with Mr. Brown throughout 2018, and even asked Mr. Brown for tickets to a Pittsburgh Steelers football game in the winter of 2018.

Mr. Brown's accuser has continually posted photographs of Mr. Brown on her social media in an effort to financially benefit from his celebrity.

Mr. Brown, whose hard work and dedication to his craft has allowed him to rise to the top of his profession, refuses to be the victim of what he believes to be a money grab.

In May 2018, Mr. Brown's accuser invited herself to join Mr. Brown and his friends, who were patrons at Miami adult entertainment clubs. After several hours of partying, Mr. Brown and his friends called it a night.

Instead of leaving by herself, as she had arrived, and returning to her hotel, Mr. Brown's accuser solicited Mr. Brown to join her and return to Mr. Brown's residence where the two engaged in consensual sex. Again, Mr. Brown denies all of the accuser's allegations.
Brown's attorney wrote on Twitter that NFL player "will leave no stone unturned and will aggressively defend himself, including exercising all of his rights in countersuits."
Antonio Brown will leave no stone unturned and will aggressively defend himself, including exercising all of his rights in countersuits.

— Darren Heitner (@DarrenHeitner) September 11, 2019
Britney Taylor also released a statement through her own attorney.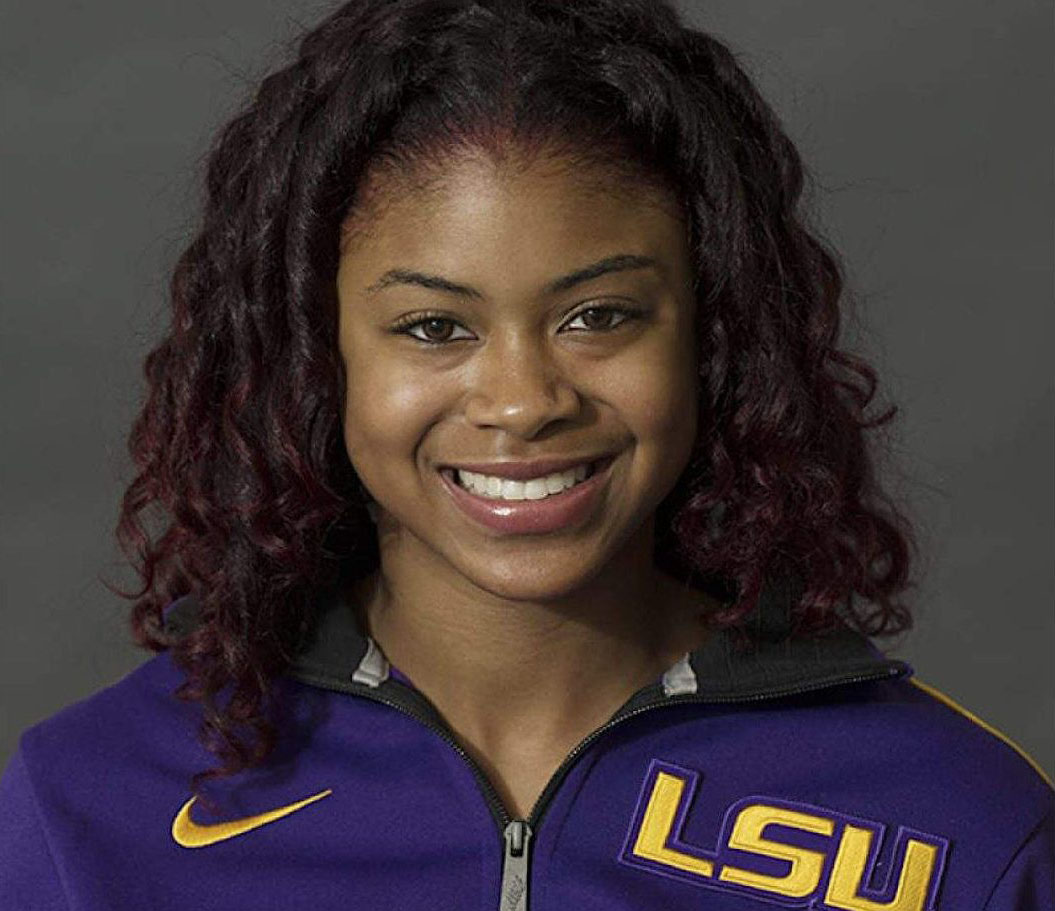 Britney Taylor released the following statement through her attorney David Haas:
"As a rape victim of Antonio Brown, deciding to speak out has been an incredibly difficult decision. I have found strength in my faith, my family, and from the accounts of other survivors of sexual assault.

"Speaking out removes the shame that I have felt for the past year and places it on the person responsible for my rape. I will cooperate with the NFL and any other agencies; however, at this time, I respectfully request that the media please respect my privacy."
Taylor is a former gymnast who competed at the college level at Central Michigan University, where Brown played college football between 2007 and 2009 before entering the NFL Draft in 2010.
According to her LinkedIn, Taylor also attended LSU (Louisiana State University) as a student athlete between 2012 and 2013.
Taylor now owns a gym in Tennessee where she trains young gymnasts.
Britney Taylor: Meet Antonio Brown's Former Trainer Accusing Him of Rape in Lawsuit is a post from: Gossip On This – Pop Culture, News & Videos