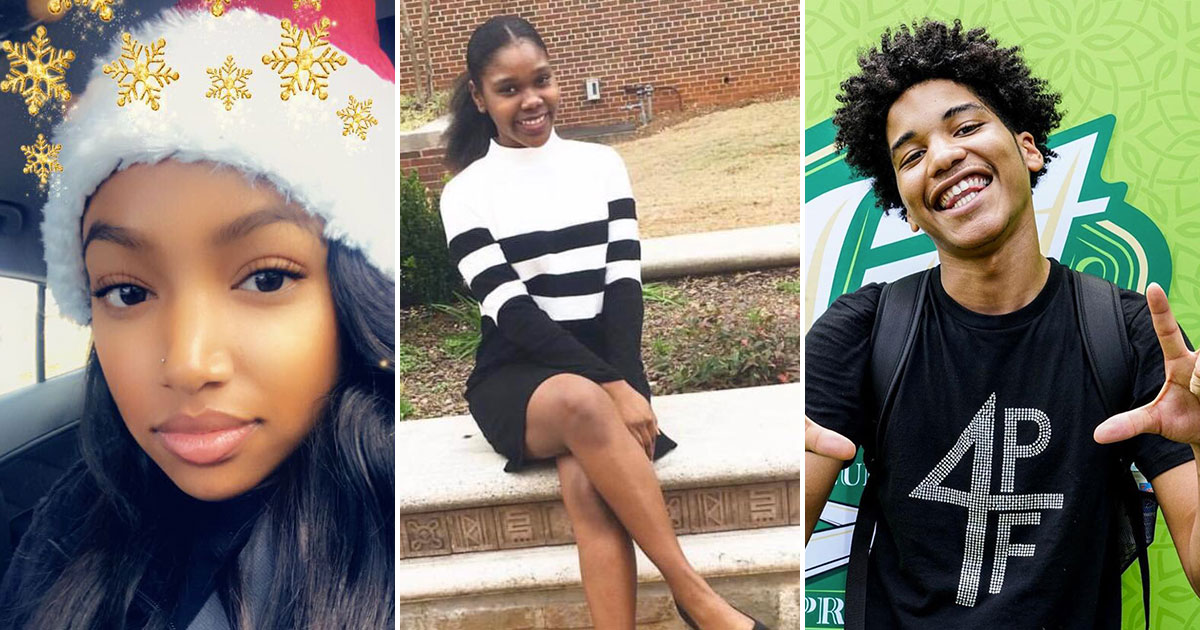 Clark Atlanta University student Alexis Crawford made headlines after she suddenly went missing at the end of October.
The 21-year-old's disappearance captured the attention of many and urged police to encourage anyone who knew about her whereabouts to come forward and speak up.
Now it's sadly being reported that Alexis has been found dead, and her roommate, Jordyn Jones, as well as Jones' boyfriend, Barron Brantley, are both said to be responsible.
Here's what you need to know about Jordyn Jones and Barron Brantley's involvement in the death of Alexis Crawford.
Alexis Crawford was found dead at a park over a week after her disappearance.
Atlanta Police Chief Erika Shields revealed during a press conference on Friday (Nov. 8) that Alexis Crawford was found dead in a park in DeKalb County off of Columbia Drive one week after she was reported missing.
"Good evening. One week ago, on Friday, November 1, the Atlanta Police Department took a missing persons report for Clark Atlanta student Alexis Crawford, age 21. Today, Alexis' body was found in a park in DeKalb County off of Columbia Drive."
Shields also said they were led to Alexis' body by one of the suspects, though she didn't specify whether it was her roommate or the roommate's boyfriend.
The incident was also said to be an isolated, off-campus occurrence.
Alexis' roommate, Jordyn Jones, and Jones' boyfriend, Barron Brantley, are said to be responsible for her death.
Police have confirmed that Alexis' roommate, Jordyn Jones, and Jones' boyfriend, Barron Brantley, were both involved in her death and disappearance.
According to 11Alive, authorities are working on securing arrest warrants for both Jones and Brantley for Crawford's murder.
Jones previously told authorities that she last saw Alexis the night she disappeared on October 30th. She also said that she took Alexis to a local liquor store that night around 11:30 p.m.
Jones said that they returned home and her last interaction with Alexis was in their apartment around 12:30 a.m. before going to her bedroom for the night.
Jones told police that Alexis was not at their apartment when she left to go to class the next morning. She also said the front door was locked and Alexis wasn't in the living room or bedroom.
Police revealed that Alexis' cellphone, ID and her debit card were all missing from the home following her disappearance, but a cellphone charger and a key to the apartment were left behind.
Surveillance footage obtained by police also showed Alexis at a liquor store on Ralph David Abernathy Boulevard on October 30th.
MISSING PERSON: APD is seeking info to locate 21-year-old Alexis Crawford. Below are photos showing her inside of a business at 595 Ralph David Abernathy Blvd in SW Atlanta. These photos are the most recent available. Know something? Call @StopCrimeATL at 404-577-TIPS with info. pic.twitter.com/GnqmAb3sEh

— Atlanta Police Dept (@Atlanta_Police) November 5, 2019
Jones and Alexis were said to have gotten into a disagreement prior to the liquor store run involving Jones' boyfriend Barron Brantley.
Alexis had recently reported Barron Brantley to the police for sexual assault.
Before her disappearance, Alexis filed a police report alleging that her roommate Jordyn Jones' boyfriend Barron Brantley sexually assaulted her.
Police Chief Erika Shields spoke on this shocking news during the press conference.
"While a motive has not been clearly established, the department did take a police report from Alexis Crawford on October 27, and this is a few days prior to her being reported missing. In this report, Alexis described unwanted kissing and touching from Barron Brantley."
The police report also listed Alexis' roommate as a key witness to the incident and the roommate's boyfriend as the suspect.
Alexis told police that the three of them were drinking when Barron started to make sexual advances towards her.
According to the incident report: "The victim stated that the suspect rubbed his hand on her shoulder and kissed her on the neck. The victim stated that she asked the suspect what was he doing and he stated he thought she was Ms. Jones."
Alexis also said in the report that Barron followed her into her bedroom. She then went into her bathroom alone and closed the door to get away from him.
Alexis then stated in the report that Jordyn went looking for Barron and found him with his shirt off.
Barron denied having sex with Alexis to Jordyn, who then went into Alexis' bathroom to find her disrobed and passed out.
The report states:
"The witness stated that she started knocking on the door repeatedly. The suspect came to the door with his shirt off and stated to the witness that he had not had sex with the victim.

"When Jones looked in the restroom, Crawford was disrobed. Crawford told police she didn't remember the suspect (Brantley) being in the restroom with her before she blacked out."
By the time police arrived at the home on the night of the incident, Barron had already left in Jordyn's car.
Alexis did a rape kit following the incident at Grady Hospital and told friends she didn't feel comfortable in her own bed.
Barron Brantley is an aspiring artist according to his IG page and posed for a picture with rapper 2 Chainz.
On Instagram, Brantley labels himself as an artist. His bio reads: "Im a Artist giving yall a head start & not looking for a hand out."
He also has a picture of him and popular rapper 2 Chainz on his page. Brantley captioned the photo: "Two goats in one picture."
In another post on his page, he reveals his rap name is Barron and smiles as he appears to be doing an interview.
Jordyn Jones posted on her Instagram about Alexis Crawford's disappearance.
Alexis and her roommate Jordyn Jones were said to be good friends.
Shortly after Alexis' disappearance, Jordyn posted on her Instagram about Alexis being missing and asked the public for their help.
From her social media page, Jordyn appeared to be a regular young woman in her twenties simply living life.
"Never question greatness. CAU," her bio reads.
In a Twitter post from last year, she talked about how excited she was to finally be 21 years old.
I'm finally 21 y'all. I been waiting for this day since I was 16? pic.twitter.com/ZYw9NhONT6

— Jordyn? (@Smiiley_Angel) December 26, 2018
Jordyn also retweeted a post that spoke out on women being sexually assaulted and harassed.
It's a disgusting reality to know that every woman you know has most likely been sexually assaulted or harassed

— Lei (@leilashmeila1) December 13, 2018
In another post, Jordyn retweeted and agreed with a post that stated: "It scares me how mean i can be when a person got me f**ked up."
no.. deadass me. https://t.co/9A9HouK6cL

— Jordyn? (@Smiiley_Angel) November 25, 2018
She also shared her IG page on Twitter, but that page is currently private.
follow my Instagram? @ jorddynnnnn pic.twitter.com/gucmOplfhy

— Jordyn? (@Smiiley_Angel) August 8, 2018
lmao the sun had me and my naps glistening yesterday?? pic.twitter.com/2y1zLeSWyY

— Jordyn? (@Smiiley_Angel) July 3, 2018
Alexis' family says she was in good spirits the last time they spoke with her.
Alexis' mother, Tammy Crawford, told 11Alive she last spoke to her daughter on October 30th, the day she was last reported seen alive.
Tammy said that her daughter "seemed to be in good spirits and was laughing" during the conversation.
One of Alexis' sisters said she texted her at around 8:44 p.m. and asked what her plans were for the weekend. Alexis responded "nothing" and didn't respond further.
Alexis is also said to have shared a post on Instagram at around 9:03 p.m. She also responded to an Instagram group message with laughing emojis at around 9:24 p.m.
Alexis also spoke with another one of her sisters, Monica Wright, on the day she disappeared, asking her to Cash App her some money, which Alexis' father ended up providing to Wright to send to Alexis.
Her family reported her missing to authorities on November 1st.
Clark Atlanta University released a statement about Alexis' death.
Clark Atlanta University responded to the news about Alexis' death and deemed it as "the worst possible news."
The university also stated: "Our deepest thoughts and prayers are with her family and with everyone who knew and loved Alexis".
Panther Family, we are devastated by the tragic reports regarding our own Alexis Crawford. We are here for you!

Message from our president, Dr. George T. French Jr. ??? pic.twitter.com/tavJVAM1VH

— Clark Atlanta Univ. (@CAU) November 8, 2019
Jordyn Jones & Barron Brantley: Quick Facts About Alexis Crawford Murder Suspects is a post from: Gossip On This – Pop Culture, News & Videos