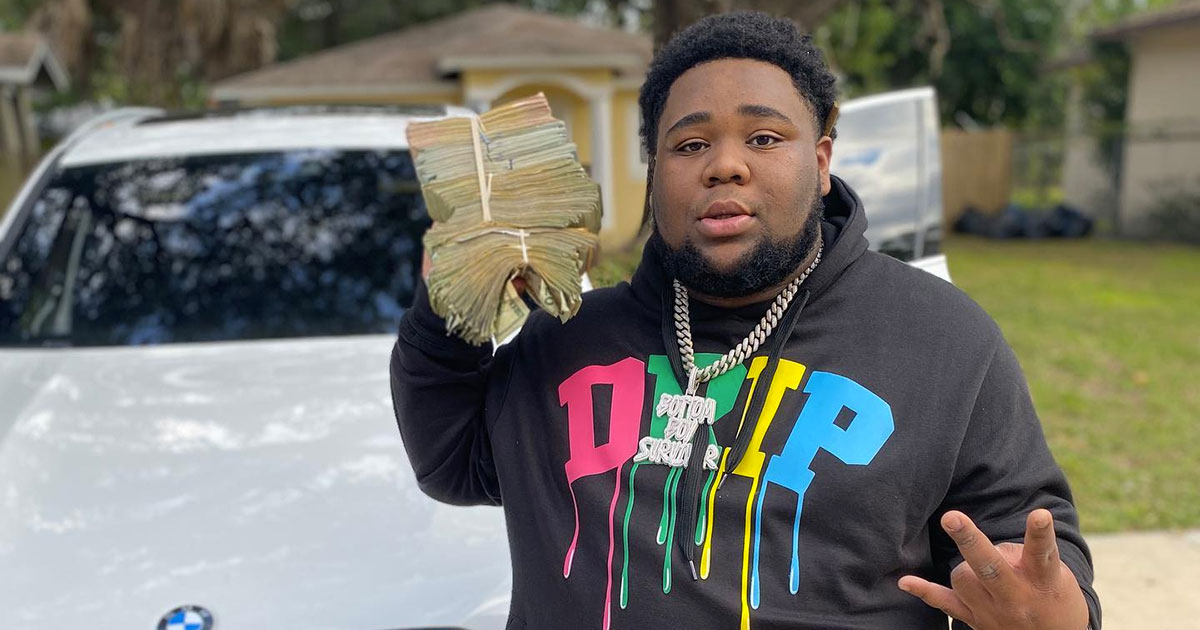 Rod Wave says he's done with making music and is ready to go back to the streets because (some of) y'all don't appreciate him enough.
The 20-year-old St. Petersburg, Florida native has been making waves in hip-hop over the past year.
More recently, his "Heart On Ice" single from his PTSD mixtape has taken his career to even greater heights, and even landed him a feature from Chicago rapper Lil Durk on the song's remix.
However, it seems as though the pressures of fame are getting to Rod Wave, and he's ready to give it all up to go back to what he's used to … the streets.
Before deleting his Twitter Sunday (Dec. 8), the rapper/singer tweeted: "Ain't feeling this rap sh*t I gotta get back to da block [peace sign emoji]"
He also said in a previous tweet: "Opened up to the world gave em my pain they took it and made fun," possibly alluding to jokes people have made on social media regarding his weight and the sad stuff he talks about in his music.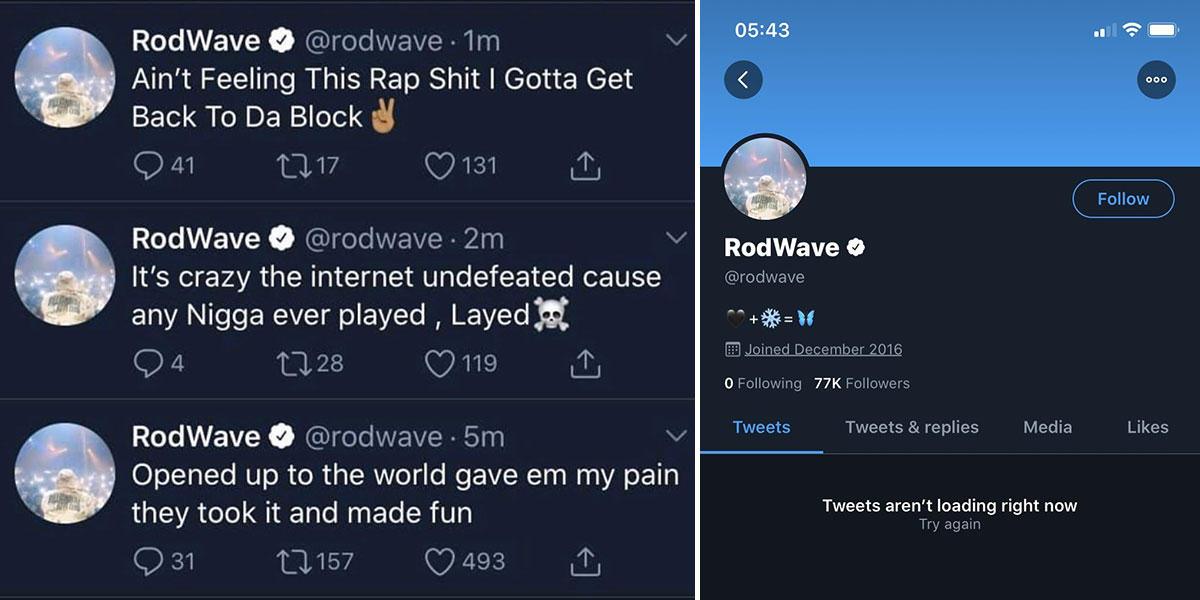 Around Thanksgiving, a meme went viral after someone posted on Facebook: "Rod Wave gone drop his plate and go make a pain song about it."
Using the melody from "Heart on Ice," the jokes from other Facebook users started flying.
"Plate done broke so many times iiiiiii, done spilled the yams and greeeens," one user wrote.
Added another: "Momma say it's my fault it's my fault I dropped the pan of Mac & Chhheeeeesseeeeee."
Some fans on Twitter pointed out that "bullying" drove Rod away from music.
y'all done made so many fat jokes now rod wave don't wanna rap no more pic.twitter.com/AeS3JUADli

— ? ???? (@SwaggyDud2x) December 9, 2019
Y'all really bullied rod wave until he deactivated his Twitter? I hate y'all so much it don't make no sense.

— lotto. (@Cravingshay) December 9, 2019
A lot of y'all joking about this but that's really fucked up. I feel bad for RodWave bc he really opened up to the world about his pain and it was made fun of?? #COMEBACKRODWAVE pic.twitter.com/T2ePMjxwXr

— Timmy?? (@iimonaeQ) December 9, 2019
Bruhhhh I come back to this!!!!!

Y'all better fix ittttt? Not RodWave pic.twitter.com/NxzDMTMmym

— škÿ frøm FÄMÜ (@skygoat_) December 9, 2019
Y'all Got my Boy @rodwave fucked up !!

— Mochaa ? (@_ForeverDanaa) December 9, 2019
WDF YALL DID TO ROD WAVE pic.twitter.com/QSKYsxthke

— jordontrulandeaterrr (@breadwiinnerjay) December 9, 2019
Rod wave deactivated his Twitter too. I hate y'all ???

— Miya.C? (@C6Miya) December 9, 2019
According to a profile from XXL magazine, it was just two years ago that Rod Wave's father was released from jail and purchased him a microphone.
With that, along with a computer his brother found and gave to him, he started making music for fun, not thinking it would ever go anywhere.
However, his producer at the time, with Rod's blessing, released the highly personal tracks he recorded about pain and struggle, which was met with positive reviews from his local audience.
After building a buzz in Florida via word of mouth and performing shows, Rod landed on the radar of Alamo Records, who signed him in 2018. And the rest, as they say, is history.
Just last month, Rod released his debut studio album, Ghetto Gospel, which was executive produced by Kevin Gates. His first single from the project is a song called "Dark Clouds."
It's unclear whether Rod was just venting on Twitter or if he's really serious about retiring from music so early in his career, however, time will tell.
It would definitely be sad to see someone with so much promise quitting something they love over a few negative comments on social media, however, as we've seen with Summer Walker, everybody ain't built for fame.
For what it's worth, Rod is still active on Instagram, where he has 1M followers, who are commenting under his latest picture asking if he's really quitting rap and offering support.
"Yo u quit rap ??" asked one fan. "Keep ya head up brudda," another fan said.
"Don't quit music," added another.
Rapper Rod Wave Deletes His Twitter, Says He's Quitting Music to Go "Back to Da Block" is a post from: Gossip On This – Pop Culture, News & Videos